SHINING LIGHT ON THE BLACK SHADOW AT SCHOOL
The Power of Talk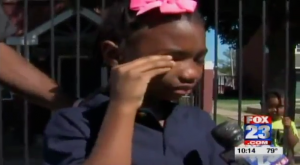 Talk makes a difference. After the Deborah Brown Community School's controversial policy about a little girl's locs made national news last week (see blog post below), the school's board voted to change its dress code policy this week (http://www.newson6.com/syoty/23383530/tulsa-charter-school-board-meeting-about-controversial-dress-code-policy). The school's previous dress code policy declared "faddish" styles like afros and dreadlocks are unacceptable. The new policy focuses on personal hygiene stating, "Each student and the parents/guardians of the student are responsible for the personal hygiene of the student. The Administration reserves the right to contact the parents/guardians regarding any personal hygiene issues that it believes causes a risk to the health, safety and welfare of the student, his or her classmates, and faculty or staff or detracts from the educational environment."
Tiana, the little girl at the heart of the hair controversy, will not directly benefit from this new policy because her parents don't plan on returning her to the school. They say they never received an apology and they are still unhappy about the impact of the school's old policy on their daughter's self-esteem. But other young black girls with natural hair at the Deborah Brown Community School may not endure the shame and humiliation that Tiana did being told she wasn't presentable with locs. My wish for Tiana is that she'll someday understand the myth of black inferiority and resulting internalized black inferiority—the black shadow—and feel proud that she and her parents helped to shine a light on it so other little black girls won't be made to feel ashamed of their naturally beautiful hair.
The first step in facing the black shadow is to name it. While there were some who didn't see racism as a factor in the school's profiling of natural black hairstyles, others were willing to call the policy racist. Despite the board being comprised of blacks, the policy conveyed the widespread myth of black inferiority and, concomitantly, internalized black inferiority by blacks ourselves. By naming and talking about a school policy that disadvantaged black students by not allowing them to express pride in their heritage by wearing afros and locs, the community helped to shine a light on the black shadow at the school and to change school policy.
Audre Lorde, a Caribbean-American writer and civil rights activist said,"Your silence will not protect you." She added, "It is not our differences that divide us. It is our inability to recognize, accept, and celebrate those differences." I'm sure Tiana and all the other Tianas out there are thankful for your voices. Let's strive to celebrate our own and others' differences.